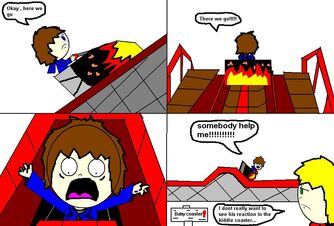 The
Baby Coaster
was seen in the season 2 comic "
The Roller Coaster!
".
Arturo
was seen riding the Baby Coaster, and being very scared while riding it, even though it is meant for toddlers.
Bryan
is then seen watching him, and says, "I don't really want to see his reaction in the kiddie coaster."
Appaerance
Edit
Its wooden with some metal parts , the cart is black with fire painted in it , the full coaster is red.
Ad blocker interference detected!
Wikia is a free-to-use site that makes money from advertising. We have a modified experience for viewers using ad blockers

Wikia is not accessible if you've made further modifications. Remove the custom ad blocker rule(s) and the page will load as expected.